The 310th Virtual Fighter Squadron
|
home


-Tophat History -





The Tophats of the 310th Fighter Squadron trace their roots to January 1942, when the unit began as the 310th Pursuit Squadron. It was formally activated on 9 February 1942, and was attached to the 58th Pursuit Group at Harding Field, Louisiana, where pilots trained replacements to fly the Bell P-39 Aircobra aircraft.
Named a fighter squadron on 15 May 1942, at Dale Mabry Field, Florida, the 310th continued training pilots for P-39, Curtiss P-40 Warhawk, and Republic P-47 Thunderbolt aircraft.
Finally, in February 1944, the 310th's personnel were introduced to combat in the Southwestern Pacific Theater. From then until 14 August 1945, the unit participated in many battles supporting General Douglas MacArthur's drive to Japan.
The unit participated in combat operations including campaigns in New Guinea, Bismarck, Archipelago, the Western Pacific, Leyte, Luzon, the Southern Philippines, Ryukyus, the China Offensive, and Japan.
For its effectiveness in combat, the 310th earned several awards including the Distinguished Unit Citation for action in the Philippine Islands on 26 December 1944, and the Philippine Presidential Unit Citation.

A Pictorial History
World War II

During World War II, the pilots of the 310th
always found time to relax between missions.
Taking it easy in this photo are: (From left to right)
Capt. Arnold Scholn, Capt. Bill Maxwell, and the
legs of Capt. Eugene Smith.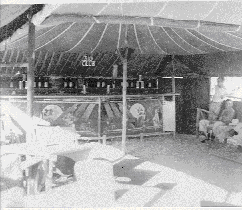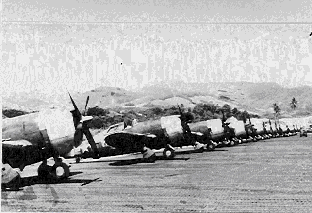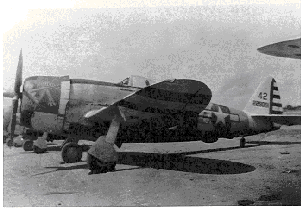 The Bar you see in the picture is now on In January of 1944, the 310th Fighter Squadron Nose art was important for the those who flew
permanent display in the main lobby of the were flying these P-47s off of Saidor, New Guinea. and one the most famous for the 310th was
310th Fighter Squadron at Luke AFB "Passionate Patsy". This photo was taken
(bldg 904). late in the war. Note the bubble canopy.
Korean War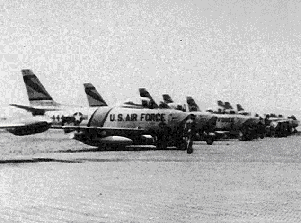 During the Korean War, the 310th Major "Mac" MaCurdy on a combat mission By 1955 the 310th Fighter Bomber Squadron
flew F-84s. Here we see the ground over North Korea in his aircraft FS-305. This were flying the F-86 SabreJet, shown here at
crews in February 1953 preparing particular mission called for two 1,000 lb bombs. Osan Air Base, Republic of Korea.
the jets for the cold winter in Korea.
The 310th FS Today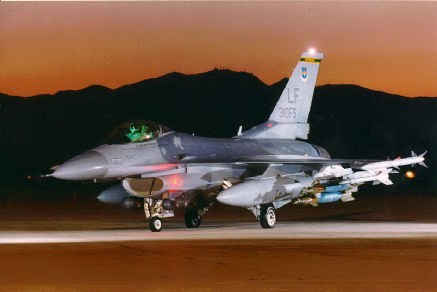 310th Fighter Squadron Flagship The F-16 Strike Eagle
The modern Tophat Squadron at Luke AFB is the only squadron in the world that teaches the LANTIRN, Night Vision Goggles (NVG's) and the Airborne Strike Control (ASC / FAC-A) missions in the USAF F-16. They currently fly Block-42 Vipers and most of their instructors are qualified to teach any of the above missions. The Tophats have a proud heritage and so we are happy to Salute them and hope to repesent them in honour.
Lineage
Constituted 310th Pursuit Squadron (Interceptor) on 21 Jan 1942. Activated on 9 Feb 1942. Redesignated: 310th Fighter Squadron on 15 May 1942; 310th Fighter Squadron, Single Engine, on 20 Aug 1943. Inactivated on 20 Feb 1946. Redesignated 310th Fighter-Bomber Squadron on 25 Jun 1952. Activated on 10 Jul 1952. Redesignated 310th Tactical Missile Squadron on 15 Jul 1958. Discontinued, and inactivated, on 25 Mar 1962. Redesignated 310th Tactical Fighter Training Squadron on 11 Dec 1969. Activated on 15 Dec 1969. Redesignated 310th Fighter Squadron on 1 Nov 1991.
Assignments
58th Pursuit (later, 58th Fighter) Group, 9 Feb 1942; Fifth Air Force, 27 Jan-20 Feb 1946. 58th Fighter-Bomber Group, 10 Jul 1952 (attached to 58th Fighter-Bomber Wing, 1 Mar-7 Nov 1957); 58th Fighter-Bomber Wing, 8 Nov 1957; 314th Air Division, 1 Jul 1958; 58th Tactical Missile Group, 15 Jul 1958-25 Mar 1962. 58th Tactical Fighter Training (later, 58th Tactical Training) Wing, 15 Dec 1969; 58th Operations Group, 1 Oct 1991; 56th Operations Group, 1 Apr 1994-.
Stations
Harding Field, LA, 9 Feb 1942; Dale Mabry Field, FL, 4 Mar 1942; Richmond AAB, VA, 16 Oct 1942; Philadelphia Muni Aprt, PA, 24 Oct 1942; Bradley Field, CT, 5 Mar 1943; Hillsgrove, RI, 28 Apr 1943; Grenier Field, NH, 16 Sep-22 Oct 1943; Brisbane, Australia, c. 23 Nov 1943; Dobodura, New Guinea, 28 Dec 1943; Saidor, New Guinea, c. 2 Apr 1944; Noemfoor, 6 Sep 1944; San Roque, Leyte, 18 Nov 1944; San Jose, Mindoro, 22 Dec 1944; Mangaldan, Luzon, 6 Apr 1945; Porac, Luzon, 18 Apr 1945; Okinawa, 9 Jul 1945; Japan, 26 Oct 1945; Ft William McKinley, Luzon, 28 Dec 1945-20 Feb 1946. Taegu AB, South Korea, 10 Jul 1952; Osan-Ni (later, Osan) AB, South Korea, 19 Mar 1955-25 Mar 1962. Luke AFB, AZ, 15 Dec 1969-.
Aircraft and Missiles
P-39, 1942; P-40, 1942-1943; P-47, 1943-1945. F-84, 1952-1954; F-86, 1954-1958; Matador, 1958-1962. A-7, 1969-1971; F-4, 1971-1982; F-16, 1982-.

P-47D-16-re as flown by the 310th FS in WWII (PTO)
Operations
Operational and replacement training unit, Mar 1942-Apr 1943. Combat in Southwest and Western Pacific, 24 Feb 1944-14 Aug 1945. Combat in Korea, 10 Jul 1952-27 Jul 1953; air defense in Korea thereafter until Mar 1962. Combat crew training, 1970-.
Honors
Service Streamers. World War II American Theater.
Campaign Streamers. World War II: Air Offensive, Japan; New Guinea; Bismarck Archipelago; Western Pacific; Leyte; Luzon; Southern Philippines; Ryukyus; China Offensive. Korea: Korea Summer-Fall 1952; Third Korean Winter; Korea, Summer 1953.
Armed Forces Expeditionary Streamers. None.
Decorations. Distinguished Unit Citations: Philippine Islands, 26 Dec 1944; Korea, 1 May-27 Jul 1953. Air Force Outstanding Unit Awards: [15]-31 Dec 1969; 1 Jan 1971-31 Dec 1972; 1 Jan 1975-31 Dec 1976; 1 Jan 1978-31 Dec 1979; 1 Aug 1982-31 May 1984; 1 Jun 1986-31 May 1988; 1 Jun 1989-31 May 1991; 1 Jun 1991-31 May 1992; 1 Jun 1992-31 May 1993. Philippine Presidential Unit Citation (WWII). Republic of Korea Presidential Unit Citation: 10 Jul 1952-31 Mar 1953.
Emblem

On a Medium Blue disc two Golden Orange lighting bolts highlighted Yellow saltirewise in bend surmounted by a human skull proper wearing a Black top hat and a Golden Orange bow tie highlighted Yellow, all above a pair of dice proper showing five Black dots topmost and two Black dots topmost respectively; all within a double narrow border Light Blue and Yellow. Originally approved on 9 Oct 1943, reinstated on 6 Nov 1987 (DFSC 88-01521); replaced emblems approved on 18 May 1983 (DFSC 83-08010), 5 Apr 1972 (KE 12412), and 5 May 1961 (K 12412).
-The 58th Fighter Group-

Air Forced Assigned To:

5th AF (Oct '43)

| | | |
| --- | --- | --- |
| Stations Flown From: | | Sydney, Australia (Nov '43) |
| | | Brisbane, Australia (Nov '43 - Dec '43) |
| | | Dobodura, New Guinea (Dec '43 - April '44) |
| | | Saidor, New Guinea (April '44 - Aug '44) |
| | | Noemfoor (Aug '44 - Nov '44) |
| | | San Roque, Leyte (Nov '44 - Dec '44) |
| | | San Jose, Mindiro (Dec '44 - April '45) |
| | | Mangaldan, Luzon (April '45) |
| | | Porac, Luzon (April '45 - July '45) |
| | | Okinawa (July '45 - End WWII) |
| | | |

| | | |
| --- | --- | --- |
| Campaigns Flown in: | | American Theatre |
| | | Air Offensive, Japan |
| | | New Guinea |
| | | Bismarck Archipelago |
| | | Western Pacific |
| | | Leyte |
| | | Luzon |
| | | China Offensive |
| | | |

| | | |
| --- | --- | --- |
| Awards Won: | | Distinguished Unit Citation: Philippines, 26 Dec '44 |
| | | Philippine Presidential Unit Citation |
| | | |

Aces were:
(scores in the group only- some scored victories while flying in other groups or squadrons)
HQ:

Ø

69th FS:

Ø

310th FS:

Ø

311th FS:

Ø

201st (Mexican) FS:

Ø

| | | | | | | |
| --- | --- | --- | --- | --- | --- | --- |
| Total Aircraft Claims in Air: | Destroyed | | Probable | | Damaged | |
| | 14 | | 0 | | 0 | |
| | | | | | | |

Squadron Insignia and Codes:
(according to some sources)
310th Fighter SQ 69th Fighter SQ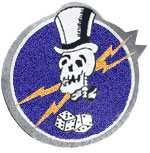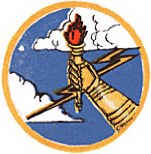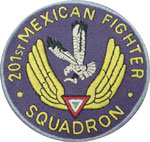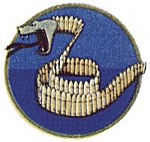 201st Mexican SQ 311th Fighter SQ
Squadron Insignia:
(according to the 1945
58th FG History)
310th Fighter SQ 69th Fighter SQ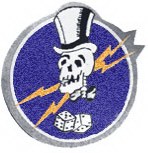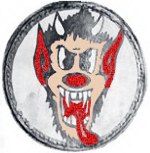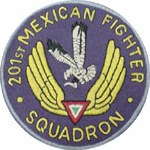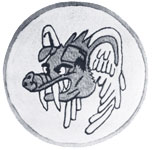 201st Mexican SQ 311th Fighter SQ

Cowl colors and letter codes:
310th Fighter Squadron 311th Fighter Sqaudron 69th Fighter Squadron 201st Mexican Fighter Squadron
Yellow Blue White, with Red used later White
(H34 thru H66) (V67 thru V99) (A1 thru A33)
Aircrft Flown: P-39 Aircobra; P-40 Warhawk; P-47 Thunderbolt
Data for the 58th FG history was found and used from the following publications-

Air Force Combat Units of WWII
, by USAF Historical Div. Air University

Stars and Bars
by Frank Olynyk
Memoirs of the 58th Fighter Group by the Officers and Enlisted men of the 58th

If any one has any further information that they would like to contribute to our history page on the 310th FS in WWII or on the 58th FG in WWII please contact 310th VF/BS Command at:
Email: commandhq310thvfbs@msn.com